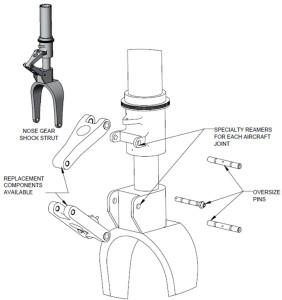 BIG LAKE, ALASKA, 28-Mar-2016 – As part of its continuing mission to support the worldwide fleet of Cessna Caravan family aircraft, Airforms, Inc. has obtained FAA STC approval for procedures that provide repairs to worn Nose Gear Torque Links and Nose Gear Shock Struts, and replacement of their respective attaching parts with FAA PMA'd oversize components.
"As the torque link joints loosen over time the nose gear is prone to shimmy, especially when operating the larger diameter nose wheel," said Lee Budde, President of Airforms, Inc. "This STC acknowledges the fact that wear is going to happen over the life of the gear, but by providing oversized pins and a carefully designed set of tools, wear can be removed incrementally to keep the nose gear operating like new. Unlike other options for nose gear maintenance that require the entire nose gear be removed and sent off to be repaired by a repair station, this STC allows the gear to remain on the aircraft and the specialized tool kit allows the wear points to be reamed to exact sizes, even in the field."
Highlights of the STC include:
Oversized FAA PMA'd pins & bolts available in .010, .020 and .030 oversizes
Standard sized pins & bolts also available
FAA STC sold separately
Precision machined pins and bolts are Cad plated for long life
Tool kits available with piloted reamers for all 3 oversizes
Airforms is the world's leading supplier of replacement engine baffles for a wide range of general aviation aircraft; products also include an expanding line of turboprop aircraft PMA parts, STCs, and hard to source parts for fleet operators. Airforms maintains an FAA approved manufacturing system for PMA parts, supported by an engineering department with FAA DER engineers.
For more information, see our C208/C208B Torque Link STC page here.
For more information, including a secure online marketplace and catalog, visit www.airforms.biz. Airforms operates from 7 AM to 7 PM CST business days and can be reached directly at 907-892-8244.